Topics & Combinations
When you bring me out for a keynote, you have the cost-free option of using me for a same-day breakout session or two.
With that said, here are the keynotes I offer.
Topic: Prioritization, Work-Life Balance, Teacher Retention
Working Title: Never Finished: Continually Becoming the Teachers We Want to Be (and Staying Sane in the Process)
There is a critical point in all of our careers when the honeymoon period wears off and we're left with a simple, brutal fact: teaching is hard. This is the key juncture in every teacher's career. In it, we either decide to embrace the challenge and the "never finished" nature of our work, or we decide to resent it. The former path leads to a fulfilled career, impactful teaching, and, more often than not, above-average student achievement results. The latter path leads to, at best, leaving the profession, or, at worst, staying in it while being actively disengaged.
Is there a framework that allows teachers to reach this juncture with a large probability of coming out better on the other side? I think so. That's what this keynote unpacks.
Topic: Student Motivation and Engagement
Working Title: More Learning, Less Stress: A Simple, Science-based Approach to Improving Student Performance and Long-Term Flourishing
For kids to master anything, they've got to do work and do it well, with care and questioning and engagement. Often times, we overcomplicate student motivation and engagement, making it incredibly difficult for the average teacher to understand and master. In this keynote, I speak onthe psychological and educational research that suggests student motivation can be boiled down to five key beliefs. What are these beliefs, how do they work themselves out, and how can you create school and classroom environments where these beliefs can take root? I answer these questions while walking participants through both a practical framework and take-away strategies they can use tomorrow.
In the keynote, I balance the research behind these five beliefs (which includes giants in the field of educational research like Camille Farrington and John Hattie) with the practical implications of these beliefs in my real, living, breathing, ever-changing public high school classroom. Your audience will appreciate this balance, as well as my classroom stories of both failure and triumph. Ultimately, this speech uncovers the linchpins of sustainable, sane achievement.
Feedback & Experience
Keynote for the Michigan Association of Secondary School Principals
Reflecting on the day: @davestuartjr – you were inspirational. Thank you for the practical, tested applications to improve instruction. Visit @MasonHSMasonMI 2019-20?#APCON19

— Kristin Higgins (@khiggins44) January 29, 2019
Great to hear from @davestuartjr What is your Everest statement? Great perspective from a great teacher about how I can improve! #APCON19 pic.twitter.com/d1erBvmTCL

— Joe Shaffer (@MSHSShaffer) January 28, 2019
Keynote for Engage AC2 District Event in Arkansas City
"It starts with us" How can I build the credibility, value, belonging, effort and efficacy within my classroom. @davestuartjr @AC_Engage #engageAC pic.twitter.com/m0Xg6HWzvo

— Kayla Dykes (@KaylaDykes84) October 24, 2018
Keynote for the Annual Conference of the Illinois Association of Teachers of English
Listening to @davestuartjr speak on making English teaching a sustainable career-long endeavor. @IATENow #IATE17 pic.twitter.com/tWqSZKQsWd

— Jacob Carlson (@JacobCarlsonIL) October 21, 2017
Keynote for the Regional Fall Conference of the Colorado Language Arts Society
"Your blog saved my life!" — Anonymous colleague in Colorado
Keynote in Dubuque, IA
@davestuartjr – I need a DeLorean to go back and deliver this message to myself 10 years ago. pic.twitter.com/XvruDWtIX7

— Ken T. Kurt (@KenThomasKurt) August 22, 2016
Keynote for the Fire Up Conference for Student Teachers
On October 17, 2016, I gave a brief keynote to an audience of several hundred hard-working people in the midst of their student teaching experiences. The talk, "The Four Non-Negotiable Teacher Mindsets," highlighted Camille Farrington's work and its ramifications for the inner work of teaching.
"Never Finished" Keynote in Grafton, WI
On August 26, 2016, I gave my eighth of eight August 2016 talks, this time to the excellent secondary staff of Grafton, Wisconsin. In this event, we started with the "Never Finished" keynote and wove that into a literacy workshop.
Opening Keynote for Genessee County Catholic Schools in Flint, MI
On August 25, 2016, I gave a "Never Finished" keynote at the beautiful Powers Catholic High School in Flint, MI. It was a great joy to speak with the staff there, many of whom have since become colleagues in follow-up Lab Classroom professional development experiences.
"Never Finished" Keynote in Dubuque, IA
Great message for everyone to follow from @davestuartjr pic.twitter.com/J04ChcZKhm

— Roamn Hummel (@ro16h) August 22, 2016
On August 22, 2016, I gave an opening keynote at an excellent, all-day, district-wide professional development event in Dubuque, IA.
"Never Finished" Keynote in Berwyn South, IL
Being inspired & called to action by @davestuartjr https://t.co/tdzh84AtAA pic.twitter.com/zBjLpuwVPy

— Ramona Towner (@rmbtowner_tech) August 19, 2016
Super engaging and thought-provoking keynote by @davestuartjr.. What's your Everest? #d100pd #irvingpride pic.twitter.com/ZkwLuTfv7m

— Hannah Wagner (@hwagnerBSD) August 19, 2016

On August 19, 2016, I was privileged to be a part of BSD 100's dynamic professional development day. (They were also very generous tweeters!)
"Never Finished" Keynote for District Literacy Day in Round Rock, TX
Enjoying listening to @davestuartjr at #rrisd #literacysummit #rrisdpd pic.twitter.com/BXuzKkj6N3

— Chris Nieto (@cnieto34) August 18, 2016
On August 18, 2016, I gave the largest keynote I had given up to that point — over 700 teachers in the audience of this very large, very smart district in Texas.
Opening Keynote for Leadership Institute in Dublin, OH
Thanks @davestuartjr for inspiring us @DublinSchools Leadership Academy today! #defineyoureverest pic.twitter.com/B1je0Cyjtb

— Kristy Venne (@KristyVenne) August 2, 2016

On August 2, 2016, I was honored to be a part of a strong initiative at Dublin Schools in Ohio: a two-day leadership institute, planned and operated by a hard-working committee of teachers.
Keynote for Virtual Disciplinary Literacy Workshop in Oshkosh, WI
Our Secondary Disciplinary Literacy Institute is off the a great start w/ @davestuartjr #literacyinstitute pic.twitter.com/OFPRwalMDp

— CESA6LITERACY (@CESA6LITERACY) June 22, 2016

What a great privilege it was, June 21, 2016, to virtually travel to Oshkosh, WI, to speak to teacher literacy leaders there. At this event, I was also humbled to meet the great Jeff Wilhelm.
Keynote for Virtual Education Symposium for the American College of Education
I was thrilled to give remarks at the first Virtual Education Symposium put on by my M.Ed alma mater, the American College of Education on October 3, 2015.
Back-to-School "Never Finished" Keynote in Plainwell, MI
Close to home, on August 31, 2015, I got to speak to the staff of schools in Plainwell, MI, at their district opening event. This was one of the first times I gave the popular "Never Finished" keynote.
Keynote for Literacy and Language Conference in Vancouver, WA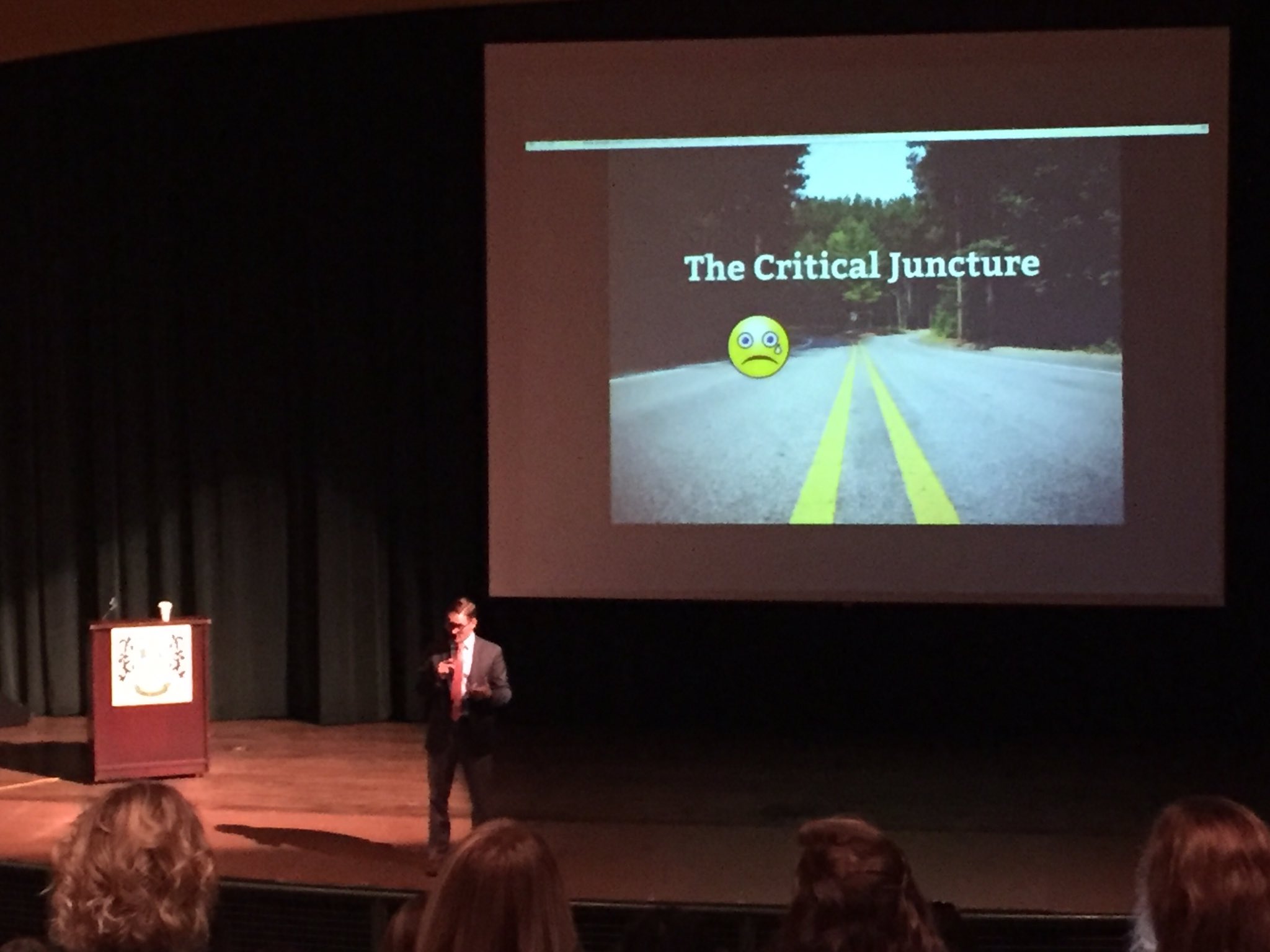 On August 17, 2015, I had a blast giving my first character-related keynote, titled "Long-term Flourishing and the Science of Success." It was a privilege reminding my audience of hard-working educators why they got into this work in the first place and how the strong science behind character strengths gives us permission and encouragement to experiment in our own classroom with dual-purpose approaches to instruction.
Keynote for Eastern Illinois University in Charleston, IL
We are listening to @davestuartjr keynote the @eiu Common Core Collaborative. pic.twitter.com/ujdu7nS2Ny

— ROE #11 (@ROE_ELEVEN) June 10, 2015
On June 10, 2015, I spoke to educators attending a conference at EIU. Our topic was the Non-Freaked Out Approach to Literacy Instruction Across the Content Areas. Like all of these opportunities, it was fun!
Keynote for Attica School District in Attica, NY
Getting jacked for a little pre-long-weekend professional growth in Attica, NY. #booyah pic.twitter.com/qrVP4qgzEf

— Dave Stuart Jr. (@davestuartjr) May 22, 2015
On April 22, 2015, I spoke to the secondary staff of Attica School District. Our topic was the Non-Freaked Out Approach to Literacy Instruction Across the Content Areas. I then led two breakout sessions.
Keynote for Turlock School District in Turlock, CA
Thank you #TurlockPD for a good start to my spring break. Enjoy well-earned rest! I sure will 🙂 pic.twitter.com/0maqoNW6ch

— Dave Stuart Jr. (@davestuartjr) April 4, 2015

On April 3, 2015, I spoke to 500+ teachers in the gymnasium of Pitman High School. Our topic was the Non-Freaked Out Approach to Literacy Instruction Across the Content Areas.
Keynote at the Small School Districts Association of California in Sacramento, CA
On March 12, 2015, I had the privilege of addressing 300 superintendents and school board members from the small school districts of California. These folks taught me that, as a Cedar Springs, MI, resident and teacher, I can't go anywhere in the country and say that I teach in a small town 🙂 I am very thankful to Dan Moore and Debbie Pearson for bringing me out to this great event!
Keynote at the Breakthrough Schools Network PD in Cleveland, OH
On August 6, 2014, I gave a keynote to the 300+ teachers of the Breakthrough Schools Network. These energetic, high-impact professionals represented grades K-8 and every subject area, as well as administrative and coaching personnel.
Below, you'll see their unsolicited feedback as some of them live-tweeted the keynote presentation.

@davestuartjr still processing the awesome Keynote Presentation this morning! Can't wait to read the blog! #mindblown#wearebreakthrough

— Ashley Miller (@PrimaryteachOH) August 6, 2014
Great start to our network PD! @davestuartjr rocked out his non-freaked out approach to the CCSS! #wearebreakthroughpic.twitter.com/OvHjUKe6f9 — The Prep Schools (@PrepSchoolsCLE) August 6, 2014
@davestuartjr — will unfreak you out with his brilliance, humor, presence. Thank you! #wearebreakthrough

— Lisa Vahey (@lvahey) August 6, 2014
@davestuartjr is blowing my mind. Love how realistic and manageable this approach is! #wearebreakthrough — Jill Moodt (@jtmoodt) August 6, 2014
Dave keeps sharing "This book in one sentence." Love it for me, love it for kids, too. (David Vahey, I mean you!) #wearebreakthrough

— Lisa Vahey (@lvahey) August 6, 2014
Dave reminds us to get kids talking everyday. Read. Write. Talk. I'm in! #wearebreakthrough — Lisa Vahey (@lvahey) August 6, 2014
"Nose in the text time" — Amen!!! Give a reader a purpose — talk or write about it — yes!!! #wearebreakthrough

— Lisa Vahey (@lvahey) August 6, 2014
Crushing Dave Stuart big-time — get to teachingthecore.com, friends! #wearebreakthrough — Lisa Vahey (@lvahey) August 6, 2014
Alumni Achievement Award Speech, Summer 2014
On July 19, 2014, I received a great honor from the institution that gave me my master's degree in curriculum and instruction: the American College of Education. Upon receiving the award, I gave a five-minute mini-speech that emphasized the importance of focus in our work as educators.
Keynote at the Fire Up Conference, Fall 2013
On October 21, 2013, I gave a keynote to 200+ pre-service teachers from colleges and universities around West Michigan. As Fire Up is the first conference I ever spoke at, I consider this one of the biggest honors I've received professionally.
High School Commencement Address, Spring 2013
On May 30, 2013, I was blessed to have the chance to feel more scared than I ever have in my life. It is one thing speaking in front of many people — for an introvert like me, that is nerve-wracking enough. Skydiving would be a little more relaxing! But speaking at a graduation is terrifying as graduation is a key life landmark for all in attendance. Thankfully, the audience was gracious; students of the Class of 2013 still thank me for the words I shared in my "Hard Work and Humility" address.
Contact Dave about Rates and Dates
I would be honored to speak at your event, so long as it aligns with my research and family schedules. Be in touch below.